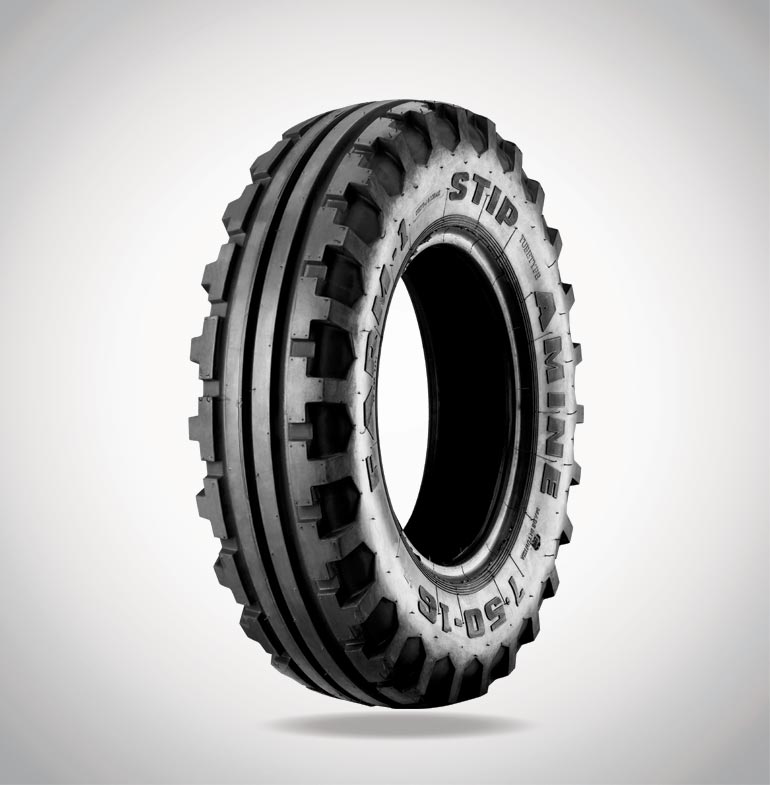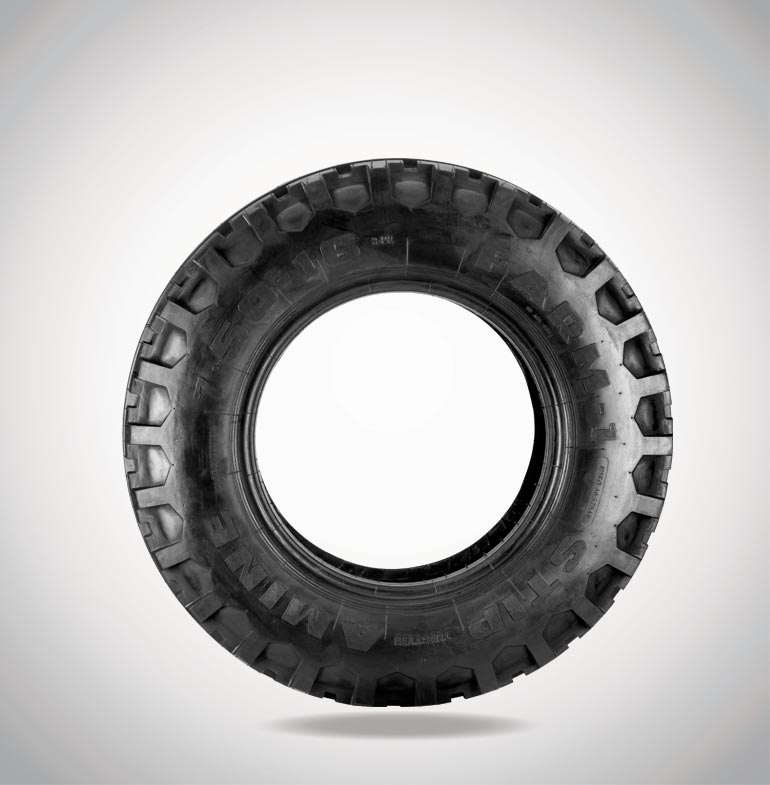 High level yield
Optimum traction
Farmland
Diagonal tire in small sizes designed for small farm machine use and different types of trailers.
Advantages:
It's extremely resistant cross ply structure and it's tread ensure maximum grip resistance to domage, cuts and abrasions.
It offers excellent self cleaning properties ans it's compound guarantees longer life.
| Tire size | PR | Index Load / Speed Symbol | Section width (mm) | Overall diameter (mm) | Loaded radius (mm) | Rolling circumference (mm) | Max load By Axle | Pressure for max load | Rim Recommended |
| --- | --- | --- | --- | --- | --- | --- | --- | --- | --- |
| | | | | | | | (kg) | Bar | Inch |
| 6.00X16 FARM1 | 8 | A6 | 162 | 735 | 344 | 2241 | 855 | 3.3 | 4.5E |
| 7.50X16 FARM1 | 8 | A6 | 195 | 805 | 375 | 2455 | 875 | 3.7 | 5.5F |
| 7.50X16 FARM10 | 8 | A6 | 195 | 805 | 361 | 2455 | 875 | 3.7 | 5.5E |
| 7.50X16 FARM100 | 8 | A6 | 201 | 805 | 369 | 2455 | 875 | 3.7 | 5.5F |
| 7.50X18 FARM2 | 8 | A6 | 203 | 850 | 401 | 2499 | 950 | 3.7 | 5.5F |
| 7.50X18 FARM150 | 6/8 | A6 | 202 | 857 | 392 | 2520 | 825/950 | 2.8/3.7 | 5.5F |
| 6.50X20 FARM1 | 8 | A6 | 175 | 865 | 404 | 2638 | 725 | 3.1 | 4.5E |
| 7.50X20 FARM1 | 8 | A6 | 205 | 915 | 452 | 2790 | 1030 | 3.4 | 5.5F |